5D Robotics creates Behavior Engine (BE™) software that can give unmanned ground vehicles (UGVs) the ability to perform a variety of actions, from reactive guarded motion, obstacle avoidance, and follow to deliberative behaviors like mapping, localization, waypoint navigation, and path planning. It also allows plug and play of many different sensors.
To operate a robot with such varied and complex functions, 5D Robotics was looking for controllers with customizable interfaces that could be used for a variety of military applications. Working with direction from the military customer, 5D selected two different controller types to support on-the-move squad support missions. As one of the selected controllers, the SafetySense® Controller from Humanistic Robotics was put through extensive testing in the field. It proved itself to be portable to different robots, reliable in the field and reusable across multiple missions.
In the military there wasn't a good way to detect explosive hazards for soldiers traveling on foot. The technology that did exist wasn't something they could carry around on their backs, and they needed a way to off-load some of their equipment.
5D Robotics created a solution. A squad support robot that could keep up with the troops and autonomously follow the squad or go in front of them when there is a detected hazard, minefield, or suspected IED.
By having follow and lead capabilities on the robot, testing showed that soldiers should only spend roughly 2% - 10% of their time actually driving the robot. This new approach to robot control is more like interacting with a highly trained police dog than traditional teleoperation.
| | |
| --- | --- |
| | "To successfully operate this robot, we needed a controller that would allow the human to provide high-level supervision rather than merely direct driving," explains David Bruemmer, VP and Chief Technical Officer. "The reliability and functionality, the number of different options, and the feedback opportunities that were available on the SafetySense® Controller provide value to the warfighter." |
| | |
| --- | --- |
| 5D Robotics originally tried using Xbox® controllers to operate their robot, but their signals couldn't penetrate walls or objects. They also didn't allow for important feedback from the robot such as follow distance, power supply, battery level, and other critical status information. "Before soldiers had to carry multiple devices," David remembers, "but, with the SafetySense® Controller, everything necessary to support a mission is right there." | |
When you're building something for the military to use, you have to be sure it can survive the toughest working conditions.
But tough doesn't have to mean clunky. It also has to be easy to carry. "Soldiers like the fact that the SafetySense® Controller is small enough to fit in their pocket." David continues, "And if they are carrying it in their pocket, the vibration that alerts them when the robot finds a hazard or can't get over or around something is so strong that they can't miss it."
Another important feature when considering a controller for a robot is RF noise or radio frequency issues. This isn't just important in military applications, but also in commercial applications like mining. The SafetySense® Controller is designed to allow for operation in these difficult situations.
With the SafetySense® Controller, the buttons are reconfigurable and pretty straightforward. David adds, "I like that fact that the controller has an e-stop button. Even if the robot is 1/2 mile away, hit that button and the robot stops. There's no need to use an additional e-stop system."
The automated Polaris Ranger developed by PKMM and 5D.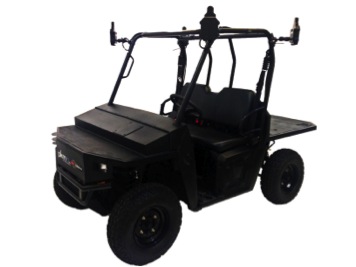 Even though this robot was engineered for the hazardous conditions of a war zone, it has a bright future in other situations. According to David, "The oil and gas industry, agriculture, even mining are good examples of where our solutions can provide value in the future."
To learn more about 5D Robotics, visit 5Drobotics.com.
"Our tech team enjoyed working with them and they're willing to be flexible with the configuration of their safety systems and original concepts." David adds, "We believe that the partnership has been a good one."